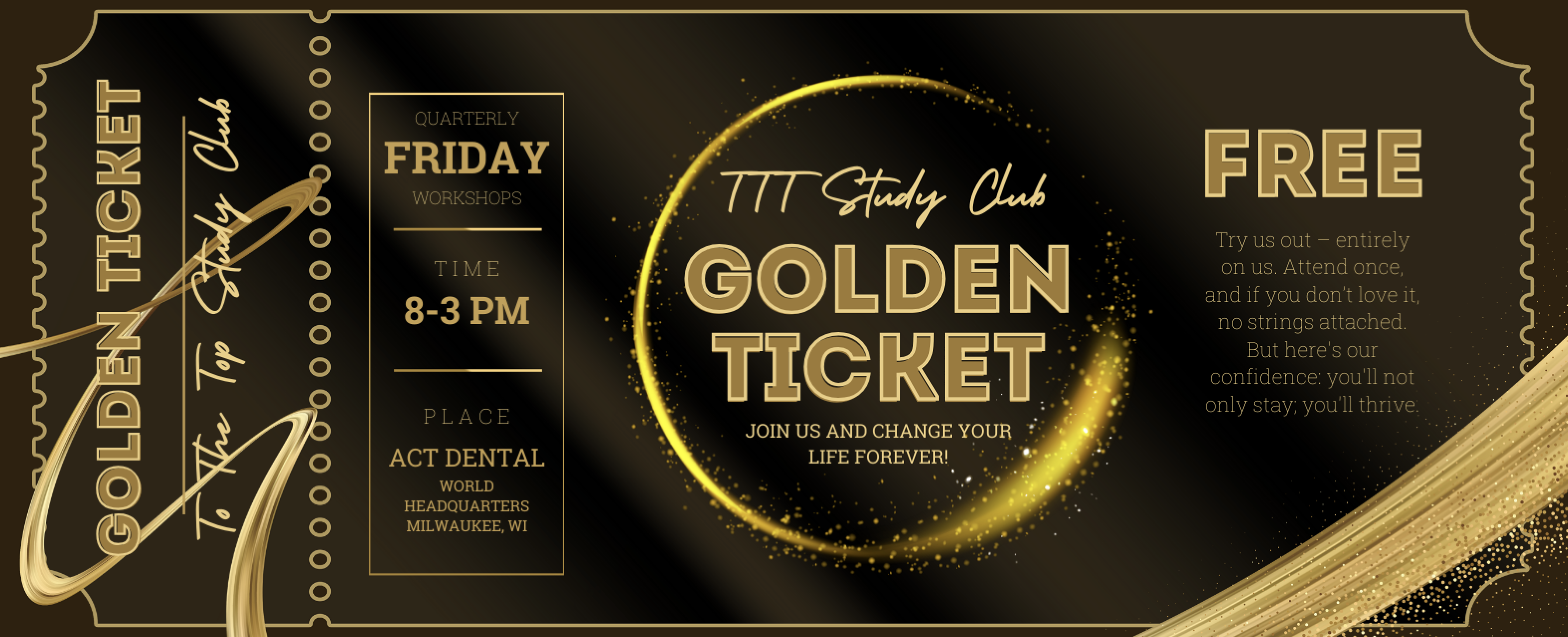 Register for a
FREE GOLDEN TICKET
To The Top Study Club:
Elevate Your Dental Journey
Join Us for FREE Once!

Workshop Dates:

Friday, October 20th

Friday, October 27th

Workshop Hours: 8:00 AM - 3:00 PM

Location: ACT Dental Headquarters in Milwaukee, WI
Dare to Dream Bigger? Your Pathway to Dental Mastery Awaits! Passionate dentist, are you on the hunt for unparalleled success in your practice? Your quest culminates here. Introducing the To The Top Study Club – the zenith of dental mastermind groups, meticulously sculpted for visionary trailblazers like you.
🌟 REGISTER TODAY FOR YOUR GOLDEN TICKET! 🌟
Try us out – entirely on us. Attend once, and if you don't love it, no strings attached. But here's our confidence: you'll not only stay; you'll thrive.
Why We Shine Above the Rest: Unlock the secrets of unmatched dental triumph by immersing in our unique ecosystem, curated just for entrepreneurial dentists eager to evolve and connect. The dental realm has its challenges – but with us, you'll never face them alone.
Key Challenges We Conquer Together:
Banish Loneliness; Embrace Unity. Feel the solitude of practice? We unite a dynamic community of forward-thinking dentists. Together, we grow, sharing wisdom and cutting-edge solutions. Your Community Awaits Journey with Your Tribe.

Stay Ahead of Dental Paradigm Shifts The dental world is ceaselessly evolving. Stay at the forefront with pioneering content, workshops, and virtual enlightenment. Stay Updated: Uplift Your Practices.

Integrate Clinical Precision with Business Brilliance Merging clinical prowess with business strategy can seem overwhelming. Delve into actionable insights that amplify both. Lead with Excellence: Cultivate Constant Growth.

Discover & Foster Exceptional Talent The right crew can skyrocket your practice. Learn proven tactics for selecting and nurturing top-tier talent. Optimize Team Synergy: Thrive Together.

Forge Your Distinctive Dental Legacy With escalating competition and shifting industry dynamics. We arm you with strategies to etch your unique imprint. Stand Out: Become the Go-To Choice.

Mentorship Beyond Compare: Harness Experience Benefit from the profound expertise of seasoned dental aficionados, steering you through every challenge. Glean from Dental Luminary Insights: Success is Just Around the Corner.
Turn Obstacles into Opportunities! Join the To The Top Study Club today! Reinvent your practice, ensuring a fulfilling journey for you and your team. Our commitment? An expedition of transformation brimming with innovation, unity, and shared wisdom.
🌟 SECURE YOUR GOLDEN TICKET NOW! 🌟
Step in with an open heart, and we promise – you'll find a community ready to journey with you to the summit of dental excellence.